Volkswagen's Beetle: old love never gets rusty!
The Volkswagen Beetle is probably the car with the highest cult factor in the history of the automotive industry. 21,529,464 Volkswagen Beetles crawled from the conveyor belt. The production of the Volkswagen Beetle was stopped for good on July 30th, 2003. With its extraordinary robustness under the slogan "it runs and runs and runs" and its unmistakable design, it managed to secure itself an enormous fan community. To this day, it is impossible to imagine the streets without it.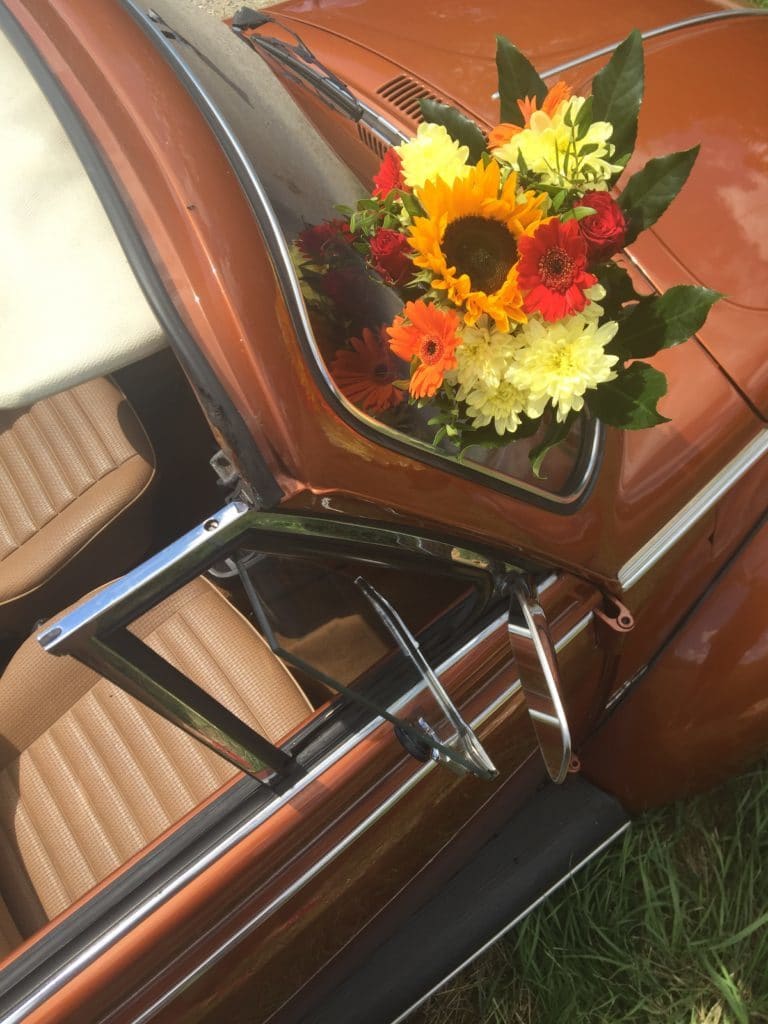 When the news is dominated by dieselgate and a huge fraud is sensed under each engine hood, it is good to pause for a moment and to dream of earlier times. Who can possibly resist the down-to-earth charmer VW 1303 Cabriolet – I certainly cannot ♥!
Open Volkswagens! They were and are more popular than all other cabriolets, were built more often and have made more history and stories than anything that is otherwise moving "topless" on four wheels. The most classic old cabriolet is surely the open Beetle in its different variations. Terms such as youth, student days, freedom and free-time are connected to it to a special degree.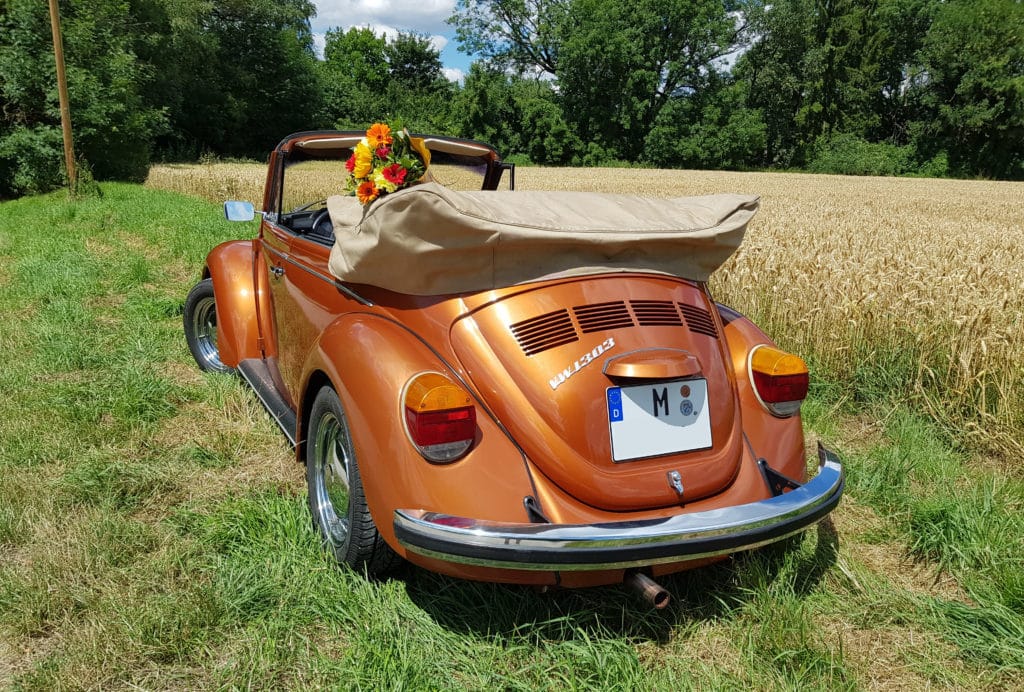 In terms of shape, the Beetle is a clear contrast to the vehicles today. Its attractive curved shape is friendly and triggers positive emotions. Its large eyes immediately awake our protective instinct. You just have to love it. This also shows in the response in the street. The Beetle not only puts a smile on the faces of seniors who were contemporaries. It is rather young people who also seem to like the good old times. Hipster goes Beetle: handicraft and manufactory are more popular than ever.
According to history, the name Beetle goes back to a journalist of the New York Times who called the Volkswagen a "little shiny beetle" in his report.
At the end of the 70s, the open Beetle is one of the very few cabriolets with four wholesome seats and is still perfect for a Sunday trip to this very day. Not only the Beetle itself, but also our trip to the Bavarian Schliersee, puts that smile on our face even days later.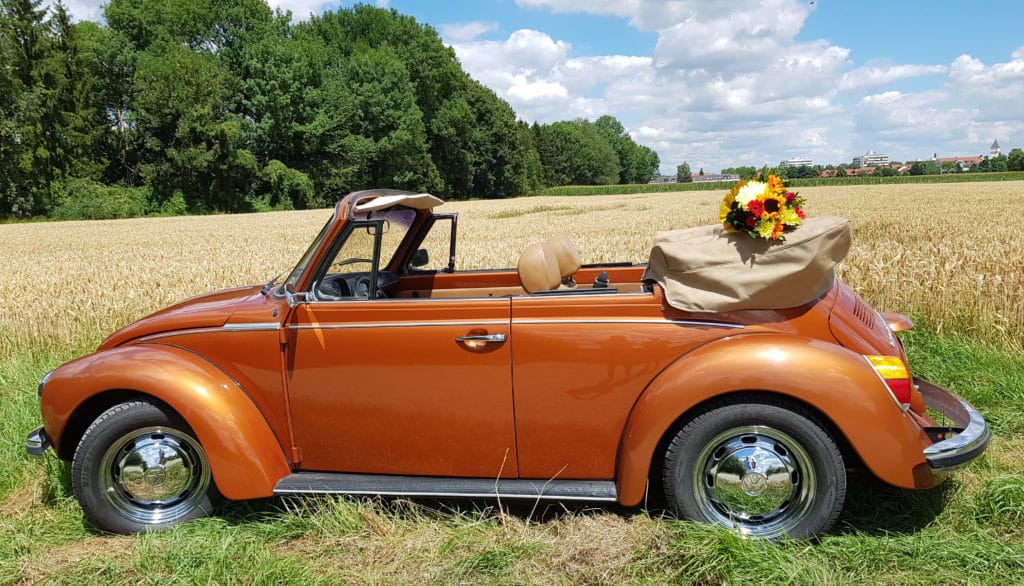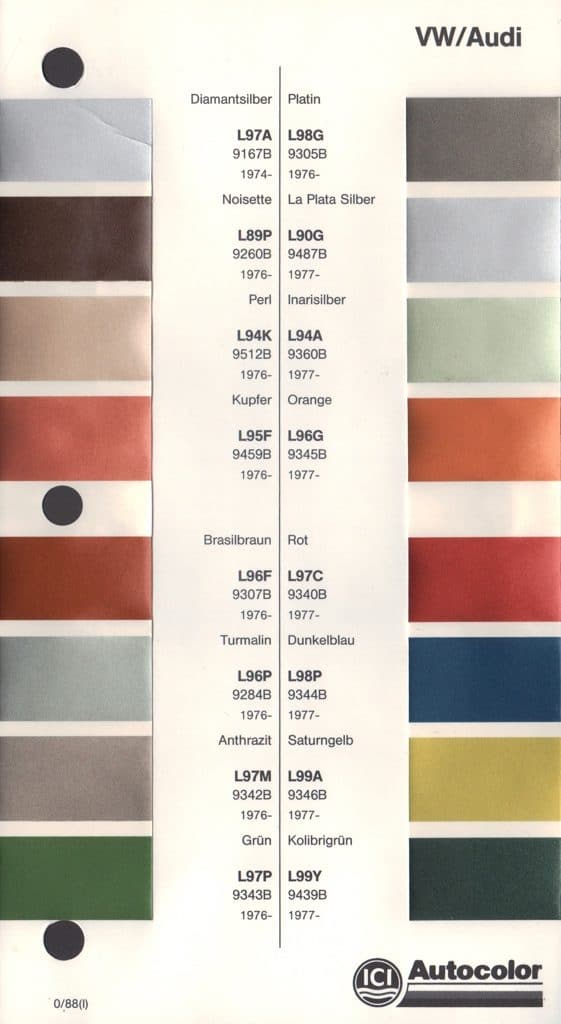 The color palette is in style of the late 70s with its focus on metallic colors: besides the popular brasil-brown, this includes diamond-silver, hummingbird-green, river-blue, indiana-red, platinum- and pearl-metallic.
---
References: